Mount Maunganui road closures for cruise ships
As huge numbers of cruise ship passengers descend on Mount Maunganui in the coming months there will be road closures to enable passengers to safely get off the ships.
Between November and February a number of particularly large cruise ships were scheduled to visit, with numbers from 3000 people to 10,000 people disembarking.
Tauranga City Council has announced the corner of Salisbury Ave and The Mall (form Victoria Rd to Princes Ave) would be closed to traffic at set times.
Council said traffic coming down Salisbury Ave would be diverted into Victoria Rd and Prince Ave to The Mall.
Residents within the diverted area would not be excluded from entering or exiting their properties, nor would service vehicles or emergency services.
Tourism Bay of Plenty have been working with council to develop a traffic management plan to improve congestion and related safety issues.
The focus was on creating a safe environment for visitors to disembark and explore the city, as more than 50 per cent of passengers stay local and contribute to the local economy.
The road closures and diversions would be in place on the following days: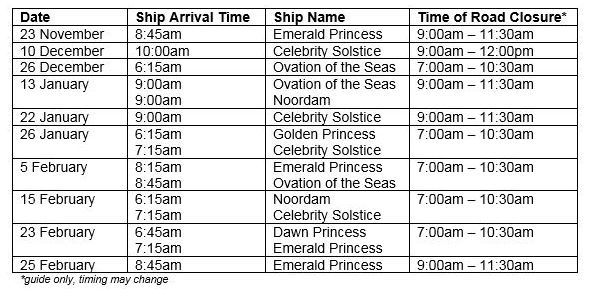 Source:  Bay of Plenty Times 18 November 2016
Cruise Schedule
View the full calendar here
This site has been designed for cruise lines, cruise ships and the travel trade in mind. If you are a passenger and wish to find out more about New Zealand or travel deals to New Zealand, please visit www.newzealand.com. We look forward to welcoming you!